Deka Batteries
DEKA POWERSPORTS.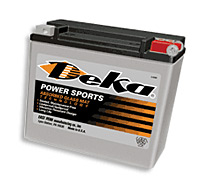 The USA made Deka Power Sports range of AGM technology batteries are designed as high power premium starting batteries. They suit motorcycles, jet skis, watercraft, ATVs, and other performance starting applications that require the combination of high amps with relatively light weight. The Power Sports most notable features include;
Higher power to weight ratio
Zero maintenance
Ultra low internal resistance for both fast power output and recharge
Superior charge retention, and strong vibration resistance
They are ready to go off the shelf! The Deka Power Sports range is aimed at the discerning customer who demands superior performance, higher reliability, and longer life with zero chance of spillage or charging spatter onto their precious chrome, paint or electronics. They are exact fitments into most Harley Davidsons as well as many other late model motorcycles as well as most jet skis and other watercraft.
DEKA INTIMIDATOR
The Intimidator range of advanced AGM batteries are designed for the dual purpose applications of high amp starting and high reserve capacity. This makes them ideal for quick starts, while providing plenty of competition quality accessory power for stereo systems, boats & RVs, hydraulic lifts, winches, on board electronics, and many other power demands. With high impact polypropylene cases and tight packed construction, the Intimidator is made to resist high under bonnet temperatures and the high vibration environment found in off-road and marine applications. AGM technology ensures true worry free and maintenance free life, and quality is assured - with the Intimidator range manufactured in the USA.
DEKA SEAMATE
The Deka Seamate/RV and Federal AGM Marine/RV range of AGM batteries are specially designed for crisp engine starting and the long deep discharges typical of Marine & RV applications. The maintenance free AGM design immobilizes the electrolyte, making the batteries truly spill proof and leak proof. They are safe to use no matter how much your boat, caravan or RV gets bounced around, and the polypropylene case ensures durability in harsh environments and temperature extremes.
These are a real alternative to the old fashioned splash and spill technology batteries that we've all had become used to over the years. The Seamate is suited for use in Boats, Caravans or Motorhomes as well as Solar applications. It is designed for high power starting and heavy auxiliary loads, and is a true dual purpose battery.
Low internal resistance means strong power delivery and fast unlimited current recharging at regulated voltages. The Seamate offers a full range of case sizes and amp hour capacities, with a variety of terminal designs to ensure easy fitment. You can tell the original design purpose of batteries by their case type and terminal options, and also by observing the recharge requirements.
Far from being a standby battery adapted for another use, the dry non-spillable design also meets and exceeds yacht racing Cat 3 compliance. Unlike many Asian copies, the Seamate is purpose built for both starting and deep cycle applications. Accept only the right product for the job.